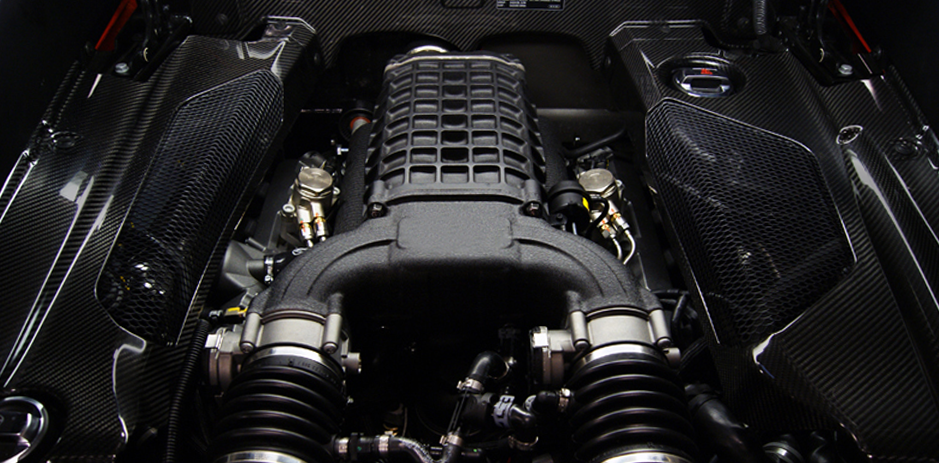 VF760 Gallardo LP
The latest product to emanate for the VF-Engineering R&D facility in Anaheim, California is a bolt on roots style supercharger system adding 200hp and 200lbs of torque to the V10 Gallardo. Available for the 2009-14 model worldwide, this system uses the Eaton/Magnuson TVS2300 4-lobe roots supercharger with an air/water aftercooling system. Packing a lag-free instant punch of torque from 5psi of boost at 1500rpm, the air charge progressively climbs to 6.5psi at redline.
Designed as a reversible and simple upgrade this product is targeted at the daily driver /enthusiast not looking to change the character of the R8. Engine calibration is programmed with an ECU OBD2 port electronic flash/Direct flash.
Tested by Motor Trend magazine, the supercharged V10 achieves 0-60 in 3.1s (originally 3.9s) and hits the quarter mile flag in just 11.0 sec @ 127.3 mph.
Eaton TVS2300 roots supercharger
6061 Aluminum intake manifold
Internal bypass system
High flow dual throttle body inlet
Air water charge cooler system
Polypropylene water reservoir
OEM high density water radiator
Bosch water pump
High capacity Hitachi fuel injectors
Hard anodized 6061-T6 aluminum bracket
OEM 7 rib serpentine belt and tensioner FEAD
High flow MAF housings
2x K&N induction filters with pre-filters
Hex Flash ECU tuning programming cable
Fully reversible
Made in California, USA.
Dyno Graphs
Images
Video
Press
Disclaimer- This product is not compliant with the California Air Resource Board and not for use on public roads in California. This applies to any aftermarket product that does not display a CARB EO#. Power ratings are subject to conditions and dynomometer model used.